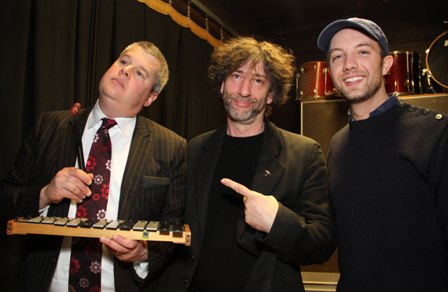 Photo: Cheryl Simon
For Shelf Awareness blog April 3, 2013
Three of my favorite author-types: Lemony Snicket (Dan Handler), Neil Gaiman, and Jon Klassen promote Lemony Snicket's new picture book for younger readers, The Dark.
Written by Lemony Snicket, illustrated by Jon Klassen, and the
audio version read by Neil Gaiman.
First, Lemony Snicket. I've loved his books and writing since
The Bad Beginning
, when my husband and I would fight over who got to read to the kids each night. The words, language and wit were intoxicating, a word which here means, very enjoyable and addictive. The tales revolve around three clever siblings to whom very unfortunate things happen, mostly because of an evil foe, sometimes referred to as Count Olaf. To top it off, the books are beautifully bound, and illustrated by the magnificent Brett Helquist.
Brett Helquist has illustrated a number of young adult books, including some by Blue Balliett called Chasing Vermeer and The Wright 3. You must read them.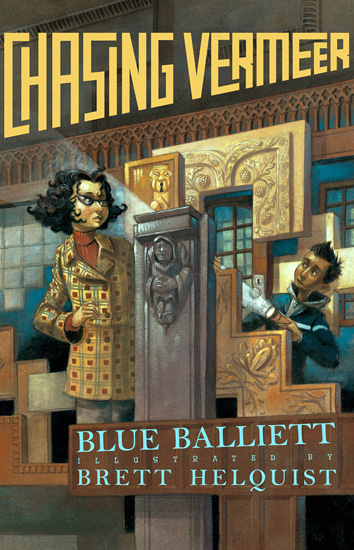 There is much to like in Chasing Vermeer: two friends, art, a scandal, a mystery. It takes the friends' intuition and clever skills to solve the puzzle.
OK, back to the picture at top.
I first read Coraline by Neil Gaiman, which I found to be amazingly creepy and intriguing and I couldn't put it down. The illustration were done by Dave McKean, and they helped draw me in to the story.
The next Neil Gaiman book I read was The Graveyard Book.
Although the Graveyard book starts out with a triple murder, the rest of the book is kind of a sweet book about a newly orphaned boy who is brought up by the ghosts in a cemetery. I loved it.
Then, while I was sorting a children's book cart at the library, I came across a picture book by Gaiman, also illustrated by Dave McKean. Great strong female hero Lucy saves her family from the wolves living in the walls of their house.
And finally, Jon Klassen. I recently
wrote
about him and his illustrations. I think he's terrific, and I can't wait to see this next book
The Dark
. Find it and all of the books mentioned at your local library!
Oh, one more piece of awesomeness: listen to Dan Handler's
interview
on Fresh Air where he accompanies himself on the accordion, singing Prince's When Doves Cry. Priceless!!