You will know
Brian Selznik
from his amazing book,
The Invention of Hugo Cabret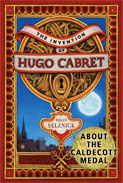 I was first drawn to this book when I saw it going through the reserves at our library. I was attracted to the art and the size of book - it is substantial, 533 pages, but holdable (about 5 x 8 inches). I flipped through it and fell into the design of it, how there are many pages with just drawings, almost like a flip book bringing you closer and closer to an image. I found the drawings to have a
Maurice Sendak
quality.
The book is set in Paris in 1931 and is about a 12 year old orphaned boy who is the secret clock winder at a busy train station. His early life unfolds and we are drawn in by the events in the book which lead to uncovering old secrets about his father, a toy shop keeper and an early film maker,
Georges Méliès.
Martin Scorsese must have really enjoyed the book, as well, which inspired him to make a major motion picture starring Ben Kingsley.
I first saw Brian Selznik's art in a series of books my daughter brought home from the library, called The Doll People by
Ann M. Martin
and Laura Godwin. My daughter highly recommends this book and its sequels, The Meanest Doll in the World and the Runaway Dolls, and I highly recommend the art.
I was very excited when I started seeing another book by Brian Selznik going the reserves at the library. This one is called Wonderstruck. You can watch a book trailer by Brian.
The first thing I loved about this book is that it starts out in my home state of Minnesota, near Gunflint Lake in NE MN. It is the story of Ben, who ends up making his way to The American Museum of Natural History in NYC. The story is paralleled 50 years earlier with a girl named Rose, and we find how Ben's and Rose's stories interweave.
The pictures, as always, are incredible. And the story is an adventure and a mystery.
But the book also brought me back to one of my favorite childhood books,
From the Mixed-up Files of Mrs. Basil E. Frankweiler
, by E. L. Konigsburg, another story that has kids sleeping overnight in a museum. How fun would that be? I'd still like to do it. Or NY Public Library. (My family always calls me the Violator...) Or MOMA, hey
Tilda Swinton
did it.
Look at this fun cover:
In any case, It's another fun story and great illustrations by author/illustrator Brian Selznik. Find all his books and more at your local public library